Mechanical stretch: physiological and pathological implications for human vascular endothelial cells
Received: 25 May 2015
Accepted: 25 August 2015
Published: 18 September 2015
Abstract
Vascular endothelial cells are subjected to hemodynamic forces such as mechanical stretch due to the pulsatile nature of blood flow. Mechanical stretch of different intensities is detected by mechanoreceptors on the cell surface which enables the conversion of external mechanical stimuli to biochemical signals in the cell, activating downstream signaling pathways. This activation may vary depending on whether the cell is exposed to physiological or pathological stretch intensities. Substantial stretch associated with normal physiological functioning is important in maintaining vascular homeostasis as it is involved in the regulation of cell structure, vascular angiogenesis, proliferation and control of vascular tone. However, the elevated pressure that occurs with hypertension exposes cells to excessive mechanical load, and this may lead to pathological consequences through the formation of reactive oxygen species, inflammation and/or apoptosis. These processes are activated by downstream signaling through various pathways that determine the fate of cells. Identification of the proteins involved in these processes may help elucidate novel mechanisms involved in vascular disease associated with pathological mechanical stretch and could provide new insight into therapeutic strategies aimed at countering the mechanisms' negative effects.
Keywords
Nitric Oxide
Focal Adhesion Kinase
Stress Fiber
Transient Receptor Potential Vanilloid
Transient Receptor Potential
Introduction
Blood vessels consist of three primary layers: the tunica intima, the tunica media and the tunica adventitia. The tunica intima is the innermost layer that contains the endothelium (endothelial cell (EC) layers) that provides a smooth surface for blood flow, whereas the tunica media contains thick layers of elastin, collagen and smooth muscle cells (SMCs) for vascular dilation or constriction. The outermost layer, the tunica adventitia, is composed of a mixture of connective tissue, collagen and elastic fibers and is used for arterial support. Hemodynamic forces, such as shear and tensile stress, continuously act upon blood vessels due to the pumping motion of the heart. Specifically, shear stress arises from the friction of the blood flow with the endothelial layer, whereas tensile stress primarily acts upon the medial layers and is due to the pulsatile nature of blood pumped from the heart.
Mechanical stretch enables vascular maintenance through proliferation, angiogenesis, the formation of reactive oxygen species, control of vascular tone and vascular remodeling [1–6]. However, the excessive mechanical stretch that occurs during hypertension has been shown to be detrimental as it perturbs these processes and causes inappropriate cellular responses that can lead to cardiovascular abnormalities [7]. As such, mechanical stretch has been modeled in vitro by regulating stretch intensity to simulate physiological and pathological stretch magnitudes (the percentage of the cell elongation from the cell's original dimensions). Low magnitude stretches of 5–10 % are categorized as physiological stretch, whereas high magnitude stretches of 20 % and above are considered pathological stretch and are thought to simulate what is proposed to occur during hypertension [8]. The differences in stretch intensity may activate different downstream signaling pathways that determine the cells' functional, biological and phenotypic features.
Previous studies have focused on the effect of shear stress and its pathological implications on EC. However, the effect of tensile stretch (specifically on human vascular ECs), has not been studied in depth [
9
–
12
]. For this reason, this review will focus on the current research in mechanotransduction specifically as it relates to vascular ECs. There will be a particular emphasis on receptors involved in sensing mechanical stretch; the signal transduction pathways involved that result in extracellular matrix (ECM) remodeling, angiogenesis, cell proliferation, vascular tone homeostasis, reactive oxygen species formation, inflammation and apoptosis (Table
1
). In addition, the review will attempt to relate how these functions are thought to be associated with the development of disease. Finally, we will briefly discuss the direction of future research in this field.
Table 1
Mechanical stretch induces various biological processes in endothelial cells
Cell type

Stretch intensity

Observation/Measurement

Biological process

Reference

1

HUVEC

10 %

↑ actin

Morphology

Yoshigi et al. 2003 [29]

2

HUVEC

10 %

Cells oriented 65 ° to stretch direction

Morphology

Barron et al. 2007 [32]

3

HUVEC

0–110 %

Cells oriented 47.8 ° at 100 %

Morphology

Takemasa et al. 1998 [27]

4

HAEC

10 %

Cells oriented at 70/90 °

Morphology

Wang et al. 2001 [34]

5

HUVEC

0–25 %

Cells oriented at 60–70 ° at 10–15 % stretch

Morphology

Haghighipour et al. 2010 [94]

6

HUVEC

10 %

Perpendicular cell's orientation

Morphology

Moretti et al. 2004 [31]

7

HUVEC

20 %

Paxillin needed for initial cell orientation

Morphology

Huang et al. 2012 [30]

8

BAEC

1–10 %

Rho proteins for perpendicular alignment

Morphology

Kaunas et al. 2005 [35]

9

BAEC

1–10 %

↑ JNK (2.6-fold) at 30 min

Morphology

Kaunas et al. 2006 [36]

10

HUVEC

120 %

↑ CAMP (3-fold)

Morphology

Yamada et al. 2000 [96]

11

HUVEC

Local stretch by microneedle

↑ Src homology 2-containing tyrosine phosphatase

Morphology

Ueki et al. 2009 [25]

12

BAEC

5–30 %

↑ Hsp 25 (relative activity 40 %)

Morphology

Luo et al. 2007 [38]

↑ Hsp 70 (relative activity 60 %)

13

BAEC

10 %

↑ JNK (5-fold)

Morphology

Hsu et al. 2010 [37]

↑ ERK (4-fold)

↑ p38 (4-fold)

14

HUVEC

120 %

↑ Ca2+

Calcium influx

Naruse et al. 1998 [14]

15

BCE

10/15 %

↑ Ca2+ (2-fold) via transient receptor potential vanilloid 4

Calcium influx

Thodeti et al. 2009 [13]

16

bEND

20/35/55 %

↑ Ca2+ via transient receptor potential channels

Calcium influx

Berrout et al. 2012 [16]

17

HUVEC

20 %

↑ c-src (3.2-fold) at 15 min

Mechanotransduction

Naruse et al. 1998 [97]

18

HUVEC

20 %

↑ pp125FAK

Mechanotransduction

Naruse et al. 1998 [98]

19

BAEC

10 %

↑ p21ras (24.7 % ratio) at 1 min

Mechanotransduction

Ikeda et al. 1999 [22]

20

HUVEC

20 %

↑ tyrosine phosphorylation (>2000 arbitrary unit)

Mechanotransduction

Katanosaka et al. 2008 [20]

21

BAEC

5–25 %

↑ ERK at 15 mins

Mechanotransduction

Shi et al. 2007 [23]

22

HUVEC

120 %

↑ integrin beta-3 (171 %) at 4 h

Adhesive

Suzuki et al. 1997 [17]

23

HAEC

5–20 %

↑ Akt phosphorylation at 5 %, 10 min (6000 arbitrary unit)

Apoptosis

Kou et al. 2009 [77]

↑ Akt phosphorylation at 20 %, 30 min (1000 arbitrary unit)

24

BAEC

6–10/20 %

↑ Akt phosphorylation and ↑ Bad phosphorylation in presence of TNFα at 6 %

Apoptosis

Liu et al. 2003 [45]

25

BAEC

10 %

↑ Akt phosphorylation at Ser 473 at 30–60 mins

Apoptosis

Nishimura et al. 2006 [78]

26

BAEC

10 %

↑ S6K phosphorylation (1.5-fold) at 30 mins

Proliferation

Li and Sumpio 2005 [1]

27

BAEC

20 %

↑ Rac1 (5-fold)

Proliferation

Liu et al. 2007 [56]

28

HUVEC

20 %

↑ c-Myc (2–3-fold) at 1–2 h

Proliferation

Hurley et al. 2010 [57]

29

Vein graft

15 %

↑ Egr-1 (5.5-fold) at 90 mins

Proliferation

Zhang et al. 2013 [58]

HUVEC

20 %

↑ MMP-2 (3.7-fold) at 18 h

Extracellular matrix

Wang et al. 2003 [44]

↑ MMP-14 (3-fold) at 18 h

30

BAEC

5 %

↑ MMP-2 (8-fold) at 8 h

Extracellular matrix

von Offenberg Sweeney et al. 2004 [43]

31

BCEC

0–28 %

↑ pro MMP-2

Extracellular matrix

Shukla et al. 2004 [99]

32

HUVEC

15 %

↑ MCP-1 (200 %) at 6 h

Inflammation

Demicheva et al. 2008 [100]

33

HUVEC

125/150 %

↑ IL-6 (3-fold) at 90 min

Inflammation

Kobayashi et al. 2003 [75]

34

HUVEC

0–10 %

↑ COX-2 (2.5-fold) at 3 h

Inflammation

Zhao et al. 2009 [101]

↑ thromboxane A2 synthase (150 %)

35

HUVEC

120–150 %

↑ von Willebrand factor to 5 mU/L at 60 min

Inflammation

Xiong et al. 2013 [74]

36

HUVEC

6–15 %

↑ IL-8 (2.6-fold)

Inflammation

Okada et al. 1998 [80]

↑ MCP-1 (2.8-fold)

37

HUVEC

12–25 %

↓ MCP-1 by exposure of nitric oxide donor

Inflammation

Wung et al. 2001 [102]

38

BAEC

0–10 %

MMP-9 silencing block migration and tube formation

Angiogenesis

von Offenberg Sweeney et al. 2005 [55]

39

BAEC

10 %

Endothelial cord aligning to 67.5–90°

Angiogenesis

Joung et al. 2006 [2]

40

HUVEC

6–13 %

↑ Ang-2 (4.8-fold)

Angiogenesis

Yung et al. 2009 [54]

PDGF-ββ (↑ 5.0-fold)

41

CMEC

10 %

↑ VEGF (1.4-fold)

Angiogenesis

Zheng et al. 2001 [51]

42

CMEC

10 %

↑ VEGF-R2 (3.2-fold)

Angiogenesis

Zheng et al. 2008 [48]

↑ Tie-2 (1.8-fold)

43

BAEC

10/20 %

↑ angiogenesis

Angiogenesis

Wilkins et al. 2014 [52]

44

HUVEC

15 %

↑ Flk-1 (1.7-fold)

Angiogenesis

Zheng et al. 2004 [47]

↑ Tie-1 (2-fold)

↑ Tie-2 (1.9-fold)

45

HUVEC

10 %

↑ Alpha smooth muscle actin (1.6-fold)

Transdifferentiation

Shoajei et al. 2014 [84]

↑ Smooth muscle myosin heavy chain (1.3-fold)

46

HUVEC

10 %

↑ Alpha smooth muscle actin (165 %)

Transdifferentiation

Cevallos et al. 2006 [83]

↑ Caldesmon-1 (443 %)

↑ Smooth muscle myosin heavy chain (205 %)

↑ Calponin-1 (174 %)

47

HUVEC

10/20 %

↑ Young's modulus of elasticity

Stiffening

Hatami et al. 2013 [82]

48

BAEC

120 %

↑ eNOS phosphorylation (1.8 arbitrary unit)

Vascular tone

Takeda et al. 2006 [62]

↑ NO (1.4-fold)

49

HUVEC

20–50 %

↑ eNOS (7-fold) at 50 %

Vascular tone

Hu et al. 2013 [5]

50

HUVEC

25 %

↑ Et-1 (2.3-fold)

Vascular tone

Cheng et al. 2001 [4]

51

HUVEC

10 %

↑ Et-1 (1.6-fold)

Vascular tone

Toda et al. 2008 [64]

52

HUVEC

6 %

↑ 8,9-epoxyeicosatrienoic acid (EET) (4–8-fold)

Vascular tone

Fisslthaler et al. 2001 [63]

53

HUVEC

100–250 %

↑ glutathione peroxidase to 200 %

ROS

Wagner et al. 2009 [71]

54

HAEC

8–20 %

↑ p66Shc (150–200-fold)

ROS

Spescha et al. 2014 [70]

55

HUVEC

5–12 %

↓ Nox4 (40 %) 12 %, 24 h

ROS

Goettsch et al. 2009 [67]

↑ eNOS (3-fold) at 12 %, 24 h

↑ NO (2 uM) at 5 %, 24 h

56

HUVEC

25 %

↑ ROS (221 %), 6 h

ROS

Ali et al. 2004 [68]

↑ VCAM-1

57

BAEC

25 %

↑ FAK phosphorylation

ROS

Ali et al. 2006 [66]
Pathological implications of mechanical stretch
Normal vascular function begins with a mechanical stimulus that becomes converted into a cascade of chemical events to activate protein signaling as a response to the stimuli. As such, ECs are one of the components in blood vessels that are highly organized to sense and respond to normal forces. When unusual conditions arise, such as mechanical overload due to excessive and/or chronic stretch intensity, cells respond with adaptive processes that can become maladaptive and can lead to disease states. As has been mentioned previously, pathological stretch activates different mechanisms leading to significant changes in the phenotype of the cell that may lead to endothelial dysfunction and hence to vascular disease (Figs.
2
and
3
).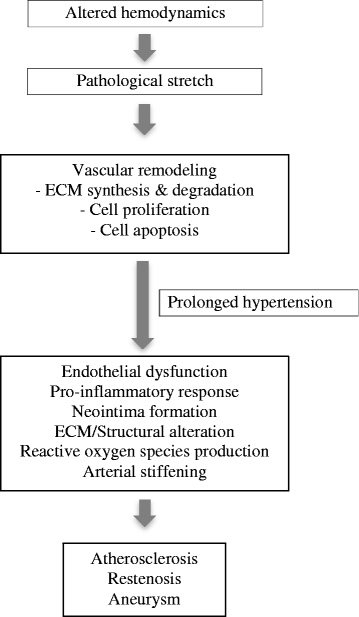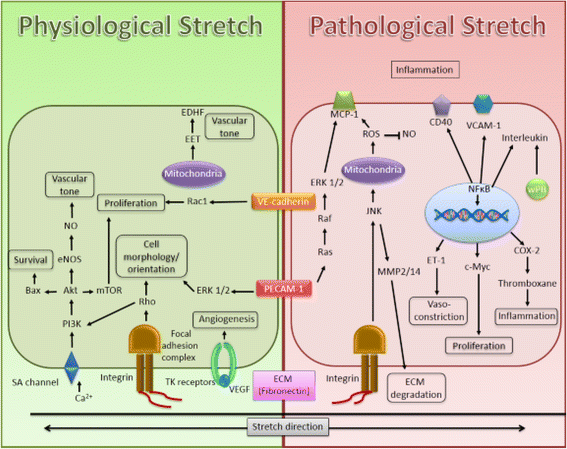 As high-intensity stretch introduces a stressful environment to the blood vessels, they are modified to accommodate this by a collective process that has been termed 'vascular remodeling'. This process involves vascular alteration in the form of migration, proliferation, apoptosis and ECM reorganization involving ECM synthesis and degradation [79]. However, degradation of ECM in blood vessels is related to the development of atherosclerosis as a result of smooth muscle cells migrating into the intima layer due to degradation of the internal elastic lamina in the tunica intima and the subsequent initiation of plaque formation [46]. Chronic hypertension, a state associated with prolonged pathological stretch, promotes pro-inflammatory responses by cytokines (IL-8, IL-6) and MCP-1 and results in recruitment of neutrophils and monocytes to the vessel, leading to the development of atherosclerotic plaques [80]. The accumulation of inflammatory cells at the site of inflammation acts as an initial event for fatty streak or atherosclerotic lesion formation and later induces SMC proliferation and migration into the intima layer leading to intimal thickening [81]. Furthermore, mechanical stretch is found to increase EC stiffening which may exacerbate atherosclerosis [82]. Interestingly, trans-differentiation of ECs to SMCs has been observed when stretch is applied to cells. Specifically, SMC marker genes (SM22-α, α-SMA, caldesmon-1, SM MHC and calponin) were increased by stretch, whereas a subsequent reduction in endothelial markers was observed [83, 84]. The presence of SMC markers on EC suggests EC plasticity towards SMC phenotype occurs during mechanical stretch, and this may contribute to the development of atherosclerosis.
As has been mentioned previously, pathological stretch could increase ROS production. This will in turn induce endothelial dysfunction and act as the initial step of atherogenesis. Endothelial dysfunction is an early indicator of atherogenesis that is characterized by reduced NO production that promotes platelet aggregation, thrombus formation and alterations in vasodilation [85]. Excessive ROS production leads to oxidative stress, which in turn leads to oxidation of low-density lipoproteins, the uptake of which by macrophages is easily compared with non-oxidized lipoproteins in the formation of atheroma. Furthermore, ROS can also alter ECs such that they exhibit a pro-inflammatory phenotype characterized by the overexpression of MCP-1 and VCAM-1 [71]. This attracts inflammatory cells, such as white blood cells, and results in the formation of fatty streaks on the tunica intima during atherosclerosis development.
Stenosis is a common vascular pathology characterized by the narrowing of a blood vessel due to atherosclerosis. Stenosis is treated by the use of balloon angioplasty or stents to widen the vessel. Balloon angioplasty reduces the recurrence of restenosis by 40 %, whereas treatment using stents reduces the recurrence of restenosis by 25 % [86]. It is thought that stretching plays a role in this process by increasing cell proliferation and intimal thickening at the vascular graft area after the treatment, although this has yet to be conclusively proven [81, 87]. As previously mentioned, identification of the Egr-1 gene in stretched cells may hold future therapeutic potential as this gene is involved in cell proliferation and silencing it may prevent this process [58].
Another vascular pathology that may be associated with stretch is aneurysm formation. Aneurysms are formed due to the weakening of blood vessels, and their rupture in the brain is considered a cause of strokes. Approximately 2–3.2 % of the general population of the world develops intracranial aneurysms, and the rupture of aneurysms affects approximately 6 per 100,000 people per year [88–90]. Excessive stress could exacerbate the conditions leading to aneurysm rupture as there is a weakening of the vascular structure due to ECM degradation by MMP and cell apoptosis. The rupture of brain aneurysms has recently been reported to be caused by a mechanical force against the thin aneurysm wall [91]. Thus, further study to elucidate mechanical stretch as the etiology for aneurysm development and rupture may assist in understanding aneurysm pathology.
Future research
The cells of the vascular system are exposed to complex environments and interact with various cell types, hormones, mechanical forces and other vasoactive substances. Due to the complexity of the cellular environment, it is particularly challenging to investigate specific outcomes from mechanical stretch of ECs. Thus, the application of stretch to ECs per se has unraveled protein signaling pathways and phenotypic changes as well as pathological consequences. It is therefore not surprising that designing experiments that simulate the conditions that exist in the vascular environment are near impossible. However, a reductionist approach has provided insight into some of mechanisms that can be pieced together to form a fragmented, although detailed, picture.
Shear stress and tensile stretch are two forces that are exerted on the vascular system, but these have contrasting effects on ECs, thus making it challenging to determine the precise mechanisms involved when both stimuli are applied [92]. Therefore, a mechanical device capable of combining forces has been manufactured to explore its simultaneous effect on ECs [93, 92]. In addition, the application of co-culture systems can simulate more accurate complex vascular systems such as those in which ECs have close contact with SMCs. These approaches are still limited, but they may elucidate interactions between ECs and SMCs under conditions of mechanical stress. Outcomes may vary based on differences in stretch frequency, load cycle, amplitude, substrate rigidity and cell confluence [26, 34, 37, 94].
One recent addition to the "omics" suite dubbed "mechanomics" involves generating tools to map global molecular and cellular responses induced by mechanical forces [95]. Application of these technologies could help elucidate comprehensive patterns of expression of genes (genomic), mRNA (transcriptomic), proteins (proteomic) and metabolites (metabolomics); however, the spatio-temporal nature of these technologies may be limiting. These technologies undoubtedly rely on a significant infrastructure and knowledge base, and, therefore, bioinformatics is an invaluable tool in teasing out the mechanistic implications of the protein and gene expression levels. As these fields continue to develop, combinations of gene expression, protein expression, metabolite data and transcriptomic data will provide a comprehensive understanding of stretch biology that will better illustrate the mechanotransduction processes [95].
Conclusion
Mechanical stretch involves various extracellular to intracellular changes in the coordination of ECs that leads to phenotypic changes in these cells. The response is dynamic such that aberrant changes lead to an imbalance in homeostasis and potentially lead to failure of function or undesired effects that can lead to hypertension and atherosclerosis, among other pathologies. ECs have complex adaptation mechanisms to counteract this stressful state, and a better understanding of these would be helpful in finding novel therapeutic approaches related to hypertension, atherosclerosis, restenosis and aneurysm formation.
Declarations
Acknowledgment
This article was supported by Faculty of Medicine and Health Sciences, Macquarie University and a scholarship from the Malaysian Ministry of Education to Nurul F. Jufri.
Open AccessThis article is distributed under the terms of the Creative Commons Attribution 4.0 International License (http://creativecommons.org/licenses/by/4.0/), which permits unrestricted use, distribution, and reproduction in any medium, provided you give appropriate credit to the original author(s) and the source, provide a link to the Creative Commons license, and indicate if changes were made. The Creative Commons Public Domain Dedication waiver (http://creativecommons.org/publicdomain/zero/1.0/) applies to the data made available in this article, unless otherwise stated.
Authors' Affiliations
(1)
Department of Biomedical Sciences, Faculty of Medicine and Health Sciences, F10A, 2 Technology Place, Macquarie University, Sydney, Australia
(2)
Department of Chemistry & Biomolecular Sciences, F7B Building Research Park Drive, Macquarie University, Sydney, Australia