Erratum to: Co-culture of Retinal and Endothelial Cells Results in the Modulation of Genes Critical to Retinal Neovascularization
Received: 14 March 2012
Accepted: 26 March 2012
Published: 26 March 2012
Correction
Following publication of our article [
1
] it was noted that Figures five E and five G were the same as Figures six A and six B. Figure
1
in this correction article is the correct version of Figure six that should have been included in the original article [
1
]. We apologize for any inconvenience caused by this error.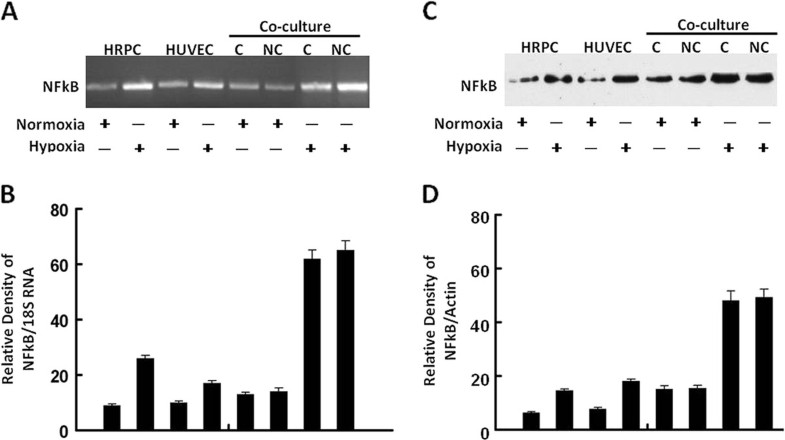 Authors' Affiliations
(1)
Department of Microbiology, Biochemistry and Immunology, Morehouse School of Medicine, Atlanta, Georgia, USA
(2)
Department of Pathology, Morehouse School of Medicine, Atlanta, Georgia, USA
(3)
Undergraduate student, Department of Chemistry and Biochemistry, Georgia Institute of Technology, Atlanta, Georgia, USA
References
Kumar R, Harris-Hooker S, Kumar R, Sanford G: Co-culture of Retinal and Endothelial Cells Results in the Modulation of Genes Critical to Retinal Neovascularization. Vascular Cell. 2011, 3: 27-10.1186/2045-824X-3-27.PubMed CentralView ArticlePubMedGoogle Scholar
Copyright
© Kumar et al; licensee BioMed Central Ltd. 2012
This article is published under license to BioMed Central Ltd. This is an Open Access article distributed under the terms of the Creative Commons Attribution License (http://creativecommons.org/licenses/by/2.0), which permits unrestricted use, distribution, and reproduction in any medium, provided the original work is properly cited.