Vaccines targeting the neovasculature of tumors
Received: 22 November 2010
Accepted: 8 March 2011
Published: 8 March 2011
Abstract
Angiogenesis has a critical role in physiologic and disease processes. For the growth of tumors, angiogenesis must occur to carry sufficient nutrients to the tumor. In addition to growth, development of new blood vessels is necessary for invasion and metastases of the tumor. A number of strategies have been developed to inhibit tumor angiogenesis and further understanding of the interplay between tumors and angiogenesis should allow new approaches and advances in angiogenic therapy. One such promising angiogenic approach is to target and inhibit angiogenesis with vaccines. This review will discuss recent advances and future prospects in vaccines targeting aberrant angiogenesis of tumors. The strategies utilized by investigators have included whole endothelial cell vaccines as well as vaccines with defined targets on endothelial cells and pericytes of the developing tumor endothelium. To date, several promising anti-angiogenic vaccine strategies have demonstrated marked inhibition of tumor growth in pre-clinical trials with some showing no observed interference with physiologic angiogenic processes such as wound healing and fertility.
Keywords
Antitumor Efficacy
B16F10 Melanoma
Lewis Lung Carcinoma Cell
Tumor Endothelial Cell
Vaccine Approach
Introduction
Cancer mortality is related to the spread of neoplastic cells to distant loci where the cells, supported by existing blood vessels and angiogenesis, proliferate and give rise to secondary tumors. Tumor angiogenesis is up-regulated by a number of conditions including hypoxia, hypoglycemia, mechanical disruption, and genetic and inflammatory alterations [1] that lead to activation of growth factors and pro-angiogenic genes [2, 3]. The stringent regulation of angiogenesis in normal tissues is often lacking in tumor angiogenesis, resulting in immature and leaky tumor vessels. Furthermore, compared to the tissue-vessel distribution in normal tissue, there is an uneven distribution of vessels within tumors, leading to tumor hypoxia and inefficient transport of chemotherapeutic drugs. In contrast to normal endothelial cells, in which the vast majority are quiescent, tumor endothelial cells actively proliferate, driven by hypoxia and increased levels of angiogenic factors and their cognate receptors. These differences between quiescent and angiogenic endothelial cells resulted in the first clinical anti-angiogenesis trial on human cancer two decades ago. There are now several anti-angiogenic therapies that have received FDA approval including sunitinib, sorafenib, and bevacizumab; and with more than 40 anti-angiogenic drugs in clinical trials [4], further advances are anticipated [5–11].
Differences among tumor endothelial cells and non-malignant endothelial cells may not only be quantitative but in some instances may also be qualitative. With serial analysis of gene expression, investigators compared gene expression from endothelial cells isolated from normal or malignant tissue, and found that several transcripts (e.g., CD276) were specifically elevated in the tumor endothelium [12, 13]. Although most receptors/proteins that are increased in the tumor endothelium are also up-regulated in physiologic angiogenic processes, CD276 is not increased in the vessels of wounds or the corpus luteum [13]. Nevertheless, CD276 is not completely specific for the tumor endothelium because its expression may be induced by cytokines on the cell surfaces of B cells, T cells, and dendritic cells. There are also many proteins/receptors in tumor endothelial cells that are overexpressed (such as VEGFR2 and survivin) compared to expression in quiescent endothelial cells. Proteins differentially expressed on tumor endothelial cells or the supporting matrix are attractive targets for vaccine strategies, with the goal of breaking tolerance to self-antigens.
Targeting the tumor vasculature with vaccines as well as with other immunotherapies may have several potential advantages over targeting tumor cells. First, tumor endothelial cells are more accessible to the immune system than are tumor cells at a distance from the vessels. Second, endothelial cells of the tumor are usually more stable genetically than tumor cells, thereby reducing the risk of resistance developing to immunotherapies [14, 15]. Chromosomal abnormalities, however, have been identified in endothelial cells of solid tumors [16, 17], and in glioblastomas, the tumor cells and its endothelium are derived from common cancer stem-like cells [18, 19]. Third, down-regulation of MHC I in tumor cells occurs less frequently in tumor endothelial cells, thereby leading to a more potent CD8+-mediated response. Fourth, since inhibition of a single endothelial cell can inhibit up to 100 tumor cells [20, 21], immunotherapies directed toward tumor endothelial cells have the potential of an amplifying inhibitory effect.
As a result of these putative advantages and differentially expressed proteins in the tumor endothelium, a number of immunotherapeutic strategies have targeted angiogenesis, including monoclonal antibodies, vaccinations, and adjuvant co-stimulatory therapies [1]. The most successful of these approaches, thus far, has been passive immunotherapy by utilizing monoclonal antibodies. In 2004, the monoclonal antibody bevacizumab which targets angiogenesis through VEGF received approval for treatment of colorectal cancer [22]. Bevacizumab has also shown efficacy against other cancers including lung, renal, and breast cancers [23, 24]. It is likely that the success and ability of bevacizumab to selectively target tumor endothelial cells has provided impetus to development of other forms of angiogenic immunotherapies. Several promising preclinical studies of tumor endothelial vaccines have led to clinical trials that are primarily in phase I. In the burgeoning field of tumor immunotherapies, we will focus on tumor vaccines that have a major anti-angiogenic component.
Delivery Systems of Tumor Endothelial Vaccines
As this review will highlight, there are many promising tumor endothelial vaccines with demonstrated efficacy in various animal models. These vaccines have been delivered by different approaches/vectors, including direct inoculation of peptides or "naked DNA", gene gun with gold particles, intradermal electroporation, tumor or dendritic cell-based vectors, and attenuated live bacteria vectors. The particular delivery system for anti-angiogenic vaccine therapy is selected at least in part based on whether immunizations are comprised of peptides/proteins, DNA, or RNA. For peptide delivery systems, the peptide can be inoculated directly into the animal model along with an adjuvant, or dendritic cells can be pulsed with the peptides before their inoculation. For gene therapy vaccine approaches, recombinant DNA may be delivered alone ("naked DNA"), by non-viral and viral carriers, or by eukaryotic and prokaryotic cells. Although delivery systems for vaccines targeting tumor endothelial cells generally mirror those targeting tumor cells [25–29], there are exceptions such as the infrequent use of viruses with tumor-endothelial vaccines. Nevertheless, we see no contraindication to using modified herpes simplex or vaccinia viruses to augment the immune response of endothelial vaccines as in tumor cell vaccines.
To date, plasmids encoding angiogenic self-antigens are the most common forms of nucleic acid to demonstrate an anti-angiogenic effect in mouse models. Moreover, bacteria have been the most frequently used delivery system for plasmid-based vaccines (see reviews of [
30
,
31
]). Of the 32 vaccines with specific targets covered in this review, bacteria were the primary delivery vector in 11 studies, whereas direct inoculation of "naked" plasmid DNA was the primary delivery system in 6 studies (see Table
1
). Several animal studies have demonstrated that orally administered bacteria-based vectors with attenuated, nonreplicating strains of
Listeria
or
Salmonella
have the potential to prevent and treat cancer through inhibition of angiogenesis [
32
–
35
]. Although safety concerns are a factor in considering these bacterial delivery systems, it is of note that one
Salmonella enterica
strain has been approved by the FDA for vaccine use [
30
,
36
]. Moreover, several bacteria-based vaccines that had marked anti-angiogenic and anti-tumor activity showed little to no autoimmune response, at least in the animal studies. Electroporation is also an appealing approach that has been used with DNA or RNA vaccines that target the tumor endothelium [
37
,
38
]. Because of the high number of antigen presenting cells, the skin is a common route of delivery for varied delivery systems including electroporation. The intradermal DNA vaccination approach enables long-term immune protection against tumor angiogenesis and growth. Although electroporation has been used less frequently than direct inoculation of plasmid DNA, it may be more effective. For example, intradermal electroporation of "naked DNA" gave a much stronger anti-angiogenic and anti-tumor immune response to survivin compared to intramuscular DNA injection [
37
,
39
,
40
].
Table 1
Different Strategies Utilized With Tumor Endothelial Vaccines
TARGET

FORM OF THE VACCINE

TUMORS

Vector/Route

MECHANISMS

Other Comments

REFERENCES

Endothelial Cell Targets

VEGFR2

mVEGFR2-AP fusion protein

Melanoma and lung carcinoma

DC pulsed

Ab, CTL

Primarily CD8+

P

Li Y et al., 2002

[45]

Autologous DNA vaccine- full-length mVEGFR2

Melanoma, colon carcinoma, non-small cell lung carcinoma, hepatoma

S. typhimurium, oral

CTL

Modest delay in wound healing

P, T

Niethammer AG et al., 2002 [59]

Xenogeneic DNA vaccine

Murine melanoma, carcinoma, fibrosarcoma, lyphoma

"Naked" DNA,

SC

Ab, CTL, CD4+(Th1)-mediated

Quail VEGFR2 vaccine

Increased levels of IgG2a and 2b

P, T

Liu, J-Y et al., 2003

[130]

Autologous DNA vaccine- mVEGFR2 fragment

Breast tumor-rat Her2 expressing carcinoma; murine p53- deficient breast carcinoma

L. monocytogenes, oral

CD8+ mediated Inf-γ Elispot

Encodes listerolysin-VEGFR2 fragment; No effect on wound healing or pregnancy

P, T

Seavey MM et al., 2009 [32]

Autologous DNA minigene

Murine breast and colon carcinomas

S. typhimurium, oral

CTL

Encodes H-2Kd or H-2Dd restricted peptides

P

Luo Y et al., 2007 [63]

Autologous DNA minigene

Murine lung, prostate, and breast cancers

S. typhimurium, oral

CTL

Plasmid also encodes HIV-TAT peptide

P

Zhou H et al., 2005 [61]

H-2Db -restricted Peptides

Murine colon carcinomas

SC

CTL

adjuvant (GM-CSF, CD40 Ab);

T

Dong Y et al., 2006

[62]

HLA-A2 or-A24 restricted hVEGFR2 Peptides

Mouse melanoma and colon carcinomas

ID

CTL

HLA-24 restricted Peptide 169 (RFVPDGNRI) induced human PBMC-CTL lysis of endothelial cells

Wada S et al., 2005 [43]

VEGFR2 Peptide 169 + gemcitabine

Pancreatic cancer

(Phase I)

SC

CTL;

Reduced Treg cells

Adjuvant (IFA)

Miyazawa M. et al., 2009 [66]

Xenogeneic DNA vaccine

Murine breast and colon carcinoma

Cationic liposomes, IV

Ab, CTL

Human VEGFR2;

P, T

Xie K et al., 2009 [65]

Autologous DNA vaccine (VEGFR2 fused with β-defensin 2)

Murine lung and colon cancer

Cationic liposomes, IM

Ab, CTL

Antitumor and anti-angiogenic synergy between VEGFR2 and β-defensin-2;

P, T

Wang YS et al., 2007 [64]

Autologous DNA vaccine- Extracellular Domain

Murine Lung

S. typhimurium, oral

Ab, CTL CD4+ (Th1), C8+ mediated

Increased levels of IgG2a and 2b

P

Zuo SG et al., 2010 [67]

VEGF

Xenogeneic DNA

vaccine

Fibrosarcoma, breast cancer, hepatoma

"Naked" DNA,

IM

Ab

CD4+-mediated

Xenopus VEGF has about 75% homology with humans and mice

P, T

Wei YQ et al., 2001 [58]

Autologous or xenogeneic protein

Murine and human colon caricinoma; human rhadosarcoma

IM

Ab;

h- or mVEGF conjugated to KLH

P

Rad FH et al., 2007 [73]

FGFR-1/bFGF

Autologous bFGF peptide

Murine melanoma and lung carcinoma

Lipid A containing liposomes

IM

Ab

Effective vaccine against the 44 aa segment of the heparin binding domain; No effect on wound healing or pregancy

P

Plum SM et al., 2000 [76]

Plum SM et al., 2004 [77]

Xenogeneic DNA

vaccine

Murine fibrosarcoma, hepatoma and breast cancer

"Naked" DNA, IM

Ab

FGFR-1 from Xenopus laevis

Delayed wound healing

P, T

He QM et al., 2003 [78]

TEM8

Autologous TEM8 with rat Her2 or human tyrosinase-related protein1 DNA vaccine

Rat Her-2 expressing breast carcinoma;

Murine melanoma

Gold-particle gene gun

No Ab or CTL response with TEM8 vaccine alone

Synergy observed

P

Felicetti P et al., 2007 [82]

Xenogeneic DNA vaccine

Murine melanoma

S. typhimurium

oral

CTL;

Human TEM8

No effect on wound healing

T

Ruan Z et al., 2009 [83]

ENDOGLIN (CD105)

Xenogeneic protein

Murine lung, melanoma, colon carcinoma, fibrosarcoma

SC

Ab;

Synergy with cis-platinum; adjuvant (alum)

P, T

Tan GH et al., 2004 [87]

Tan GH et al., 2004 [88]

ANGIOMOTIN

Xenogeneic DNA vaccine, full-length

Her-2 expressing breast cancer in transgenic mice

Electroporation,

TC

Ab

Human angio-motin and Her-2; antitumor synergy when combined with Her-2 DNA vaccine

Holmgren L et al., 2006 [38]

TIE2

Xenogeneic protein vaccine

Murine hepatomas and melanomas

SC

Ab

Chicken Tie2

P, T

Luo Y et al., 2006 [94]

DNA vaccine encoding HLA-restricted peptides

In vitro lysis of endothelial cells expressing Tie-2; Tumor response not tested

Gold-particle gene gun

CTL

HLA-A*0201/Kb transgenic mice; the epitope

(FLPATLTMV) had the highest CTL response;

Ramage JM et al., 2004 [95]

HP59/SP55

Xenogeneic peptides

Murine lung carcinoma

Not stated

Ab

HP59 and SP55 peptide mixture

P

Fu C et al., 2001 [96]

Pericyte Targets

HMW-MAA

Xenogeneic DNA vaccine, HMW-MAA fragment

Murine melanoma, renal carcinoma, Her-2 transgenic mice

L monocytogenes

IP

Ab, CTL

HMW-MAA (2160-2225 aa) fragment fused to LLO

T

Maciag PC et al., 2008 [33]

PDGFRβ

Autologous DNA vaccine, full-length

Murine colon, breast, lung carcinoma

S. typhimurium

oral

CTL

Also, targets activated fibroblasts

P, T

Kaplan CD et al., 2006 [34]

Combined Targets

SURVIVIN

Xenogeneic DNA vaccine

Murine melanoma

Electroporation, ID

CTL

Human survivin vaccine

P

Lladser A et al., 2010 [37]

Survivin/CCL21 DNA vaccine

Murine lung carcinoma

S. typhimurium, oral

CTL

Mouse survivin; no effect on wound closure or fertility

P, T

Xiang R et al., 2005 [35]

GRP

Recombinant chimeric HSP-65 -GRP6 fusion protein

Murine breast carcinomas

SC

Ab, CTL

6 tandem repeats of GRP(18-27 aa) fused to HSP-65

P, T

Guojun W et al., 2008 [115]

Chimeric-HSP65-GRP6 DNA Vaccine

Murine melanoma

"Naked" DNA, IM

Ab

chimera also includes tetanus toxoid and HSP70 fragments;

P

Fang J et al., 2009 [116]

LEGUMAIN

Allogeneic DNA vaccine

Murine non-small lung, colon and breast cancers

S. typhimurium, oral

CTL

Mutant polyubiquitin incorporated

P, T

Luo Y et al., 2006

[119]

Autologous DNA minigene

Murine breast carcinoma

S. typhimurium, oral

CTL

Angiogenesis inhibited more 90%; H-2K vaccine more potent than H-2D

P

Lewen S et al., 2008 [120]

MMP-2

Xenogeneic full-length MMP-2 DNA vaccine

Murine fibrosarcoma, hepatoma, lung carcinoma

"Naked" DNA, IM

Ab

Chicken MMP-2

P, T

Su JM et al., 2003 [123]

β3 Integrin

Xenogeneic β3 DNA vaccine

Murine fibrosarcoma, mammary carcinoma

"Naked" DNA, IM

Ab

Chicken β3 ligand binding domain

P, T

Lou YY et al., 2002 [129]
Besides tumor cells [41], dendritic cells (DC) pulsed with peptide/protein epitopes (or DNA encoding these epitopes) have also been employed successfully to vaccinate animals against tumor endothelial antigens [42, 43]. DC process and present antigens to T and B cells and produce cytokines and chemokines which in turn activate NK cells [44]. DC-based therapies involve modification with pulsed (loaded) defined peptides, whole protein lysate, and/or transfected DNA or RNA [42, 43]. An interesting anti-cancer and anti-angiogenic approach was the use of a VEGFR2-loaded DCs that led to greater than 80% reduction in lung metastases of two different tumor models [45]. Different forms of nucleic acids have also been used for angiogenic peptides and proteins. In addition to peptides, proteins, and recombinant DNA, mRNA is another promising strategy to enhance cellular immunity [46]. For example, antitumor synergy was observed when dendritic cells were transfected with mRNA from two receptors (VEGFR-2 and Tie2) that are highly expressed on tumor endothelial cells [47]. Varying the routes of pulsed DC administration may also affect the efficacy of tumor vaccines. Pellegatta and colleagues determined that glioblastomas regressed significantly more when mice received both intratumoral and subcutaneous pulsed DC injections compared to those which received subcutaneous injections [48].
Although most authors have not compared different carrier systems with one another, it is evident that the carrier system and route of administration are critical for the success of the vaccine in animal models and in human clinical trials [49]. We have already discussed differences in the immune response to survivin based on whether electroporation or direct injection of DNA was used. In addition, when Lai et al. compared three different delivery approaches (gene gun with non-coated particles, gene gun with coated gold particles, and intramuscular injection) for the EGFR plasmid vaccine, the gene-gun with non-coated particle vaccine had the greatest cytotoxic T-lymphocyte (CTL) response and anti-tumor response [49]. Interestingly, the CD4+ response and the levels of EGFR-specific antibodies were much greater with the coated gold particle method. The required robust immune response to overcome self-tolerance will no doubt eliminate several carriers, and perhaps autoimmunity will eliminate other carriers. Which of the carriers can be translated successfully from the animal models to humans remains to be determined. The delivery vehicle and the immune-adjuvant will likely be as important as the selected angiogenic antigen to obtain a successful tumor response in humans.
Approaches for Anti-Angiogenic Vaccines
A goal of vaccination in anti-angiogenic therapies targeting tumors is to break immune tolerance to self-antigens and induce specific, strong, and persisting immune response leading to eradication of cancer. Complex networks created by several immune-competent cells such as dendritic cells, B cells, cytotoxic CD8+ T, CD4+ T-helper, and NK cells in combination with cytokines, chemokines and other immune mediators are required for effective vaccines and immune reactions against cancer (Figure
1
). Two anti-angiogenic vaccine approaches have shown promising results in reducing tumor growth and/or metastases: endothelial cell vaccines that demonstrate antitumor activity and vaccines targeting specific angiogenic targets.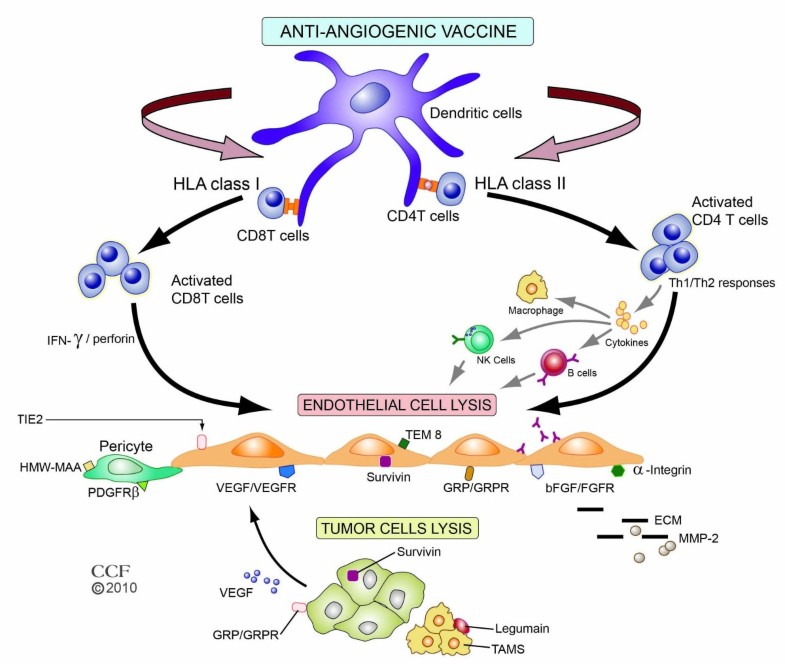 I. Endothelial Cell Vaccines
Whole Cell
In 2000, Wei et al. published a seminal report that demonstrated the efficacy of an endothelial cell vaccine targeting tumors [50]. Studies on tumor models with fibrosarcoma, hepatoma, and breast cancer cells utilized xenogeneic (human or bovine) paraformaldehyde-fixed endothelial cells. In both prophylactic (immunizations followed by tumor inoculation) and therapeutic (tumor inoculation followed by immunization) settings, the tumor growth was markedly inhibited in the three different tumor xenograft models in mice receiving the xenogeneic human umbilical vein endothelial cell (HUVEC) vaccine. In contrast, the syngeneic endothelial vaccine had no effect on the growth of these tumors compared to the phosphate-buffered saline treated control group. Moreover, there was at least a 70% survival of mice injected with the xenogeneic vaccines in the therapeutic setting for at least 80 days post tumor inoculation. Several experiments indicated that the anti-angiogenic and anti-tumor activity in mice immunized with xenogeneic endothelial cells was achieved by induction of CD4+ T lymphocyte-dependent endothelial cell-specific antibodies. Depletion of CD4+ cells abrogated the antitumor activity of the xenogeneic vaccines, whereas depletion of CD8+ and NK cells did not. Moreover, adoptive transfer of immunoglobulins from mice vaccinated with xenogeneic cells resulted in marked tumor inhibition. Further support for the effectiveness of this humoral anti-cancer protection came from in vitro studies where antibodies were able to block endothelial cell proliferation and also from in vivo experiments where angiogenesis was inhibited in a corneal micropocket assay. These endothelial specific antibodies most likely bind to the vascular endothelial growth factor receptor 2 (VEGFR 2) and αvβ3 integrin.
In addition to the efficacy of xenogeneic vaccines, several studies have demonstrated the anti-tumor efficacy of syngeneic whole endothelial cell vaccines. If an adequate immune response occurs, syngeneic endothelial cell vaccines may be preferable to xenogeneic vaccines because there are fewer species-specific immune reactions. Okaji and colleagues showed that the syngeneic endothelial cell-based vaccine (hepatic sinusosoidal endothelium isolated from BALB/c mice) arrested pulmonary metastases in a murine colon cancer in both protective and therapeutic pre-clinical settings [51]. In addition to induction of inhibitory antibodies that cross-reacted with human and mouse endothelial membrane antigens, this vaccine induced cytotoxic T-lymphocytes specific against endothelial but not tumor cells. In contrast to the previous study of Wei et al [50], the syngeneic cell-based vaccine had modestly greater anti-tumor activity than did the xenogeneic cell vaccine. The reason for disparity between the two studies is not clear, but it might be due to differences in the endothelial cells used in vaccine preparation or the route of administration. Notably, the microvasular hepatic sinusoidal endothelial cells in this study may provide a more effective cell-based vaccine [51]. In the therapeutic experimental vaccine setting, this was the only syngeneic cell vaccine study that showed significant inhibition and/or prolonged survival in the tumor-bearing mice [51]. A second study also demonstrated the efficacy of syngeneic tumor endothelial vaccines. In this preclinical study, Scappaticci and Nolan compared syngeneic, allogeneic, and xenogeneic endothelial cell vaccines for their ability to provide protection against melanoma in a mouse model [52]. The syngeneic endothelial cells were transformed by SV40 T antigen and H-ras, while the allogeneic and xenogeneic hemangioendothelioma cells had transformed spontaneously. Three weeks after the last intraperitoneal (ip) injection of the transformed endothelial cells, the mice were injected subcutaneously with murine melanoma (B16F10) cells. All mice had a humoral immune response to the different endothelial cell vaccines, with vaccinated mice displaying a decrease of 45% in VEGF serum levels compared to control. Furthermore, the group vaccinated with syngeneic cells showed complete tumor inhibition in 50% (3/6) of mice beyond 6 months, whereas mice in untreated and other vaccinated treatment groups died within 3 to 4 weeks post-tumor inoculation. In mice vaccinated with syngeneic cells that eventually developed tumors, microvessel density counts were 4-5 fold lower than were those in the control groups. From adoptive transfer experiments and CD8 knockout mice, the results suggested that both humoral and cellular immunity were important in the syngeneic vaccinated group. Interestingly, the vaccinated long-term survivors were significantly protected from a challenge with a different tumor type (EL-4 lymphoma). More recently, prophylactic vaccination with a syngeneic transformed endothelial cell line, Tpit/E, was shown to inhibit subcutaneous melanoma growth and appearance of lung metastasis in a mouse model [53]. Because death ensued rapidly within 3 to 4 weeks after inoculation of the B16F10 melanomas, therapeutic vaccination was not attempted with this vaccine.
An anti-angiogenic endothelial cell vaccine has also been tested for its anti-tumor activity in a pilot clinical trial of patients who had recurrence of their brain tumors or metastatic colorectal cancer. The patients were treated with glutaraldehyde-fixed human umbilical vein endothelial cells (HUVECs) by intradermal injection every week for the first month and then every 2 weeks [54]. Specific antibodies against HUVEC membrane antigens were detected in eight out of total nine patients and specific cellular immune responses against HUVEC were detected in six of seven tested patients. In addition, magnetic resonance imaging showed partial or complete tumor responses for at least 9 months in three patients with malignant brain tumors, while the three patients with colorectal cancer showed no response. Because there was not a direct correlation between degree of immune response and anti-tumor activity, the authors suggest that further studies are needed to identify factors that facilitate or mute immunity. Nevertheless, the results of this trial were promising in view of the lack of reported side effects and the response to treatment of patients with recalcitrant tumors.
Endothelial cell membrane
Instead of using the whole endothelial cells as a vaccine, rat tumor endothelial proteins were isolated from luminal surfaces of vascular endothelial cells containing several up-regulated angiogenesis-associated endothelial proteins [55]. In a rat lung metastatic model, endothelial cell surface proteins were isolated in situ by biotinylation followed by strepavidin selection. This mixture of mostly undefined proteins was used as a xenogeneic vaccine to treat subcutaneous LLC tumors in a mouse model. Although the growth of primary tumors was not affected in vaccinated mice, the numbers of lung and liver metastases were reduced by at least 75%. T lymphocytes isolated from immunized mice lysed in a dose-dependent manner endothelial but not tumor cells, confirming specific anti-endothelial properties of this vaccine; adoptive transfer of CTL in vivo did not have anti-tumor activity, suggesting that local tumor conditions may suppress their efficacy (e.g., intratumoral regulatory T-lymphocytes). In contrast, adoptive transfer of the IgG antibody from vaccinated into naïve tumor-bearing mice specifically targeted tumor endothelium, reduced metastases, and prolonged life-span in a therapeutic model.
II. Vaccines Expressing Defined Targets
Defined endothelial vaccines are based on specific targets and include peptides and nucleic acids (DNA or RNA) that encode these peptides (see Table
1
, Figure
2
). Suitable angiogenic targets in tumors may be receptors/markers on endothelial cells or alternatively, may be growth factors secreted by cells other than endothelial cells. To date, there has been no target or epitope that is completely specific for tumor endothelial cells. For example, TEM8, one of the more specific tumor endothelial cell markers identified thus far, was originally found in the tumor vasculature and the developing embryo, but it has since been found on cell surfaces of melanomas, breast cancers, and dendritic cells. Despite the overlap in this system, we think that classification of angiogenic vaccines based on preponderance of their targets within most tumors may be useful. As a result, we have divided tumor endothelial vaccines with defined targets into three classes: 1) growth factors/receptors or epitopes that are primarily associated with growth of tumor endothelial cells; 2) growth factors/receptors or epitopes that promote growth of pericytes; and 3) proteins/growth factors/receptors that enhance both tumor and endothelial cell growth or survival. The growth factors were classified, not on their cells of origin, but on the location of their receptors.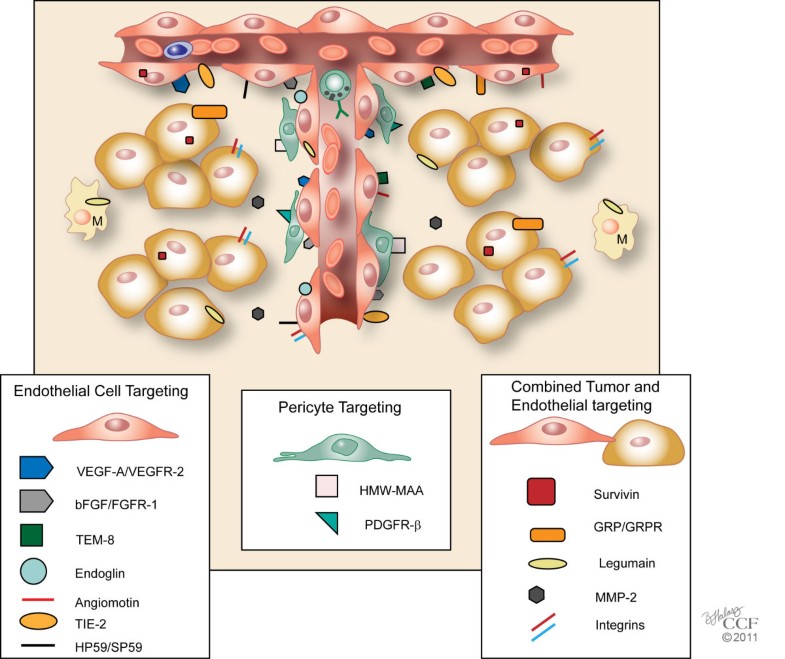 Conclusion
Significant resources including numerous pre-clinical and clinical studies have been devoted to the development of tumor vaccines. Thus far, these results have progressed and culminated in the approval a vaccine targeting advanced prostate cancer (Provenge). Although the benefits with this FDA-approved vaccine are modest, further improved vaccine versions are no doubt on the horizon and will aid with other vaccines approaches, including those against the tumor endothelium. Compared to tumor vaccines, the number of varied approaches for tumor endothelial vaccines is relatively limited and is currently restricted to pre-clinical experiments and primarily phase I trials.
As discussed in this review, several studies with tumor endothelial vaccines show anti-tumor efficacy in both transplantable and transgenic tumor-bearing animal models. Of particular note were the bacteria-based vaccines that showed marked anti-tumor response with varied anti-angiogenic genes and few if any side effects. Nevertheless, major obstacles still remain, including identification and validation of specific targets on the tumor endothelium, inhibition of local suppression mechanisms, and boosting anti-tumor immunity through NK cells [132]. Thus far, there have been few data from the endothelial vaccine studies on the various T-cell subtypes, including regulatory T-cells or myeloid derived suppressor cells [25, 133, 134], and comparison of T-cell subtypes in the tumor and peripheral tissues may be useful in development of more effective vaccines. Other immune cells such as NK cells have not yet shown a direct role in augmenting the efficacy of tumor endothelial vaccines [64, 87, 94, 130], but more research examining interactions among NK cells, dendritic cells, and immunomodulatory agents is needed [132, 135, 136].
Since tumor angiogenesis is a complex process, targeting a single epitope is unlikely to be successful. In many cases, the treated tumor adapts and finds alternative mechanisms of tumorigenesis eventually leading to resistance to therapy. Thus, combinations of anti-angiogenic vaccines with existing chemotherapy or immunomodulatory therapies offer interesting and exciting possibilities. For example, as discussed previously in this review, combinatory treatments between vaccines and IL-12, GM-CSF, CCL21, or β-defensins markedly increased the immune response toward tumor endothelial cells [39, 41, 62, 64]. Nevertheless, these co-stimulatory therapies have been used sparingly and other commonly used cytokines such as IL-2, IFN α or β [137–139] have not been co-administered or transfected into immune and/or endothelial cells to augment vaccine efficacy. Moreover, considerable more research is needed to determine the optimal co-stimulatory therapy to be administered with the vaccine for the different delivery methods.
Another consideration in developing anti-angiogenic vaccines is their potential for causing complications. Cross-reactivity between tumor and non-tumor disease tissues due to tumor endothelial vaccine may result in reduced compensatory biological processes. The classic tumor endothelial target is VEGFR2 up-regulated not only in the endothelial vessels of tumors but also in healing wounds and hypoxic cardiac tissues. Interestingly, at least with 4 vaccine studies (VEGFR2, VEGF-A, bFGF, survivin/CCL21) tumor angiogenesis was markedly inhibited, but these vaccines did not interfere with normal physiologic processes in several studies [32, 35, 47, 76, 77]. The mechanism whereby tolerance to self-angiogenic antigens in tumors but not in normal angiogenic processes is broken remains unknown. It has been suggested that differences in breaking self-angiogenic antigen tolerance between tumors and normal physiological processes may be based on the difference of their vascular organization [32, 140]; determining whether or not this is the mechanism for this difference will require further study.
To ensure effective tumor eradication and reduce autoimmune side effects, intensive efforts are still needed to identify additional targets specific to the tumor endothelium. One such study recently found highly specific and expressed markers of the tumor endothelium that were not expressed in quiescent blood vessels or physiologic angiogenesis [13]. Nevertheless, the efficacy of vaccines against these new markers has not yet been determined. Alternatively, finding tissue-specific vascular targets (e.g., prostate) may enable development of tumor endothelial vaccines with acceptable side effects [141, 142]. There is also the possibility that tailored endothelial vaccines may be developed based on specific endothelial epitopes associated with certain tumors [143]. As new anti-angiogenic targets are discovered, we anticipate that promising new therapeutic approaches are on the horizon.
Abbreviations
bFGF:

basic fibroblast growth factor
CTL:

cytotoxic T-lymphocyte
DC:

dendritic cells
FGFR-1:

fibroblast growth factor receptor-1
GRP:

gastrin-releasing peptide
GM-CSF:

granulocyte macrophage-colony stimulating factor
HMW-MAA:

High Molecular Weight-Melanoma Associated Antigen
HUVECs:

human umbilical vein endothelial cells
IFN:

interferon
im:

intramuscular
ip:

intraperioneal
IL:

interleukin
Lm-LLO-HMW-MAA Listeria monocytogenes:

that contains and secretes a fragment of HMW-MAA fused to the N-terminal listeriolysin O
MHC I:

Major Histocompatibility Complex I
MMP-2:

Matrix Metalloproteinase-2
NK:

Natural Killer cells
PDGFR-β:

platelet derived growth factor receptor beta
TEM:

tumor endothelial marker
Th:

T helper
VEGF:

vascular endothelial growth factor.
Declarations
Acknowledgements
The authors thank Drs. Pamela Talalay and Paul Anthony for their helpful suggestions and careful reading of this manuscript. This work was supported by the National Institutes of Health (R01-CA136938).
Authors' Affiliations
(1)
Department of Pathology, University of Maryland Baltimore, MSTF Building, Baltimore, USA
(2)
Department of Plastic Surgery, Microsurgery Laboratory, Cleveland Clinic Foundation, Cleveland, USA
Copyright
© Matejuk et al; licensee BioMed Central Ltd. 2011
This article is published under license to BioMed Central Ltd. This is an Open Access article distributed under the terms of the Creative Commons Attribution License (http://creativecommons.org/licenses/by/2.0), which permits unrestricted use, distribution, and reproduction in any medium, provided the original work is properly cited.