Nanotechnology-mediated targeting of tumor angiogenesis
Received: 23 August 2010
Accepted: 31 January 2011
Published: 31 January 2011
Abstract
Angiogenesis is disregulated in many diseased states, most notably in cancer. An emerging strategy for the development of therapies targeting tumor-associated angiogenesis is to harness the potential of nanotechnology to improve the pharmacology of chemotherapeutics, including anti-angiogenic agents. Nanoparticles confer several advantages over that of free drugs, including their capability to carry high payloads of therapeutic agents, confer increased half-life and reduced toxicity to the drugs, and provide means for selective targeting of the tumor tissue and vasculature. The plethora of nanovectors available, in addition to the various methods available to combine them with anti-angiogenic drugs, allows researchers to fine-tune the pharmacological profile of the drugs ad infinitum. Use of nanovectors has also opened up novel avenues for non-invasive imaging of tumor angiogenesis. Herein, we review the types of nanovector and therapeutic/diagnostic agent combinations used in targeting tumor angiogenesis.
Keywords
Vascular Endothelial Cell Growth FactorHPMA CopolymerTumor NeovasculaturePeptide AptamersAberrant Angiogenesis
Introduction
Since Judah Folkman emphasized the 'angiogenic switch' hypothesis for tumor progression in 1991, there has been a tremendous surge in targeting angiogenesis for cancer therapeutics [1]. In the past 30 years, many advances have been made in the field, with the elucidation of various angiogenic molecules that could be targeted to halt angiogenesis, and hence, tumor progression. Angiogenesis, the formation of new capillaries from preexisting vessels, is crucial for ensuring normal embryonic vascular development of all vertebrates, as well as regulating physiological processes such as menses and wound healing in adults [2–4]. Deregulation of angiogenesis hence underlies pathologies characterized by vessel overgrowth (e.g. cancer) as well as vessel insufficiency (e.g. cardiovascular disease, CVD) [4].
It is now well-established that without angiogenesis, tumors cannot grow more than 2 mm in diameter [5–7]. Studies in breast cancer patients have showed that angiogenesis positively correlates with the degree of metastasis, tumor recurrence and shorter survival rates, thus demonstrating the value of angiogenesis as a prognostic cancer marker [1, 8]. Tumor angiogenesis essentially entails the same sequences of events as physiological angiogenesis, however, the latter proceeds in an uncontrolled and excessive manner giving rise to leaky and tortuous vessels that are in a constant state of inflammation [6, 9]. This is mainly due by an upregulation of angiogenic cytokines and growth factors, most notably the vascular endothelial cell growth factor (VEGF) and Angiopoietin (Ang) families, as well as integrins [10–12]. Integrin αvβ3 is the best-characterized heterodimer that is upregulated in most cancer settings, both on the vasculature and on the tumor cells themselves [13, 14]. It is hence not surprising that these molecules are often targeted in both experimental and clinical cancer settings.
As such, the first U.S. Food and Drug Administration (FDA) approved anti-angiogenic therapy was the monoclonal antibody Bevacizumab (Avastin), that targets VEGF proteins overexpressed on colorectal cancer cells and their vasculature [15, 16]. In spite of the clinical success of Avastin, the majority of other such anti-angiogenic therapeutic agents have yet to pass phase II clinical trials, suggesting a new paradigm is essential to target aberrant angiogenesis.
Moving away from conventional chemotherapy
Targeting aberrant angiogenesis for cancer therapy
Development of anti-angiogenesis therapy is based on either drugs that prevent the formation of new blood vessels supplying to the tumor (e.g. TNP-470, endostatin, angiostatin), or drugs that damage existing blood vessels (e.g. combretastatin) [17]. The underlying mechanisms of action of these anti-angiogenic drugs are either direct, by targeting endothelial receptors, or indirect, by targeting angiogenic cytokines. These mechanisms of action differ from those of conventional chemotherapy in the following ways: (i) selective targeting of the tumor-associated vasculature instead of the tumor cells themselves; (ii) increased bioavailability of tumor endothelial cells to systemically-administered anti-angiogenic drugs due to their direct contact with blood circulation, whereas tumor cells residing in the distant tumor tissue are less accessible to conventional chemotherapeutic agents; (iii) whereas conventional chemotherapy uses the principle of maximum tolerated dose (MTD), anti-angiogenic therapy is administered in lower doses at a relatively more frequent schedule (metronomic chemotherapy), leading to significantly less systemic toxicity [18, 19].
Despite these advantages of anti-angiogenic therapy over conventional chemotherapeutic methods, it still suffers from certain limitations. For instance, as a result of systemic administration, most angiogenic inhibitors often fail to reach the targeted tumor vessels, thus exhibiting a poor biodistribution and pharmacokinetic profile, with associated side effects and low efficacy. A great advance towards this end has come from harnessing the advantages of nanotechnology to more efficiently target and kill tumor-associated vasculature. These advantages are made possible by several parameters, including the size of these nanoparticles that allows them to intrinsically home in to metastasized tumors through the enhanced permeability and retention effect (EPR), their ability to evade the immune system and improve the drug's half-life significantly thus lowering its effective dose 50 (ED50), and allow for potent selective targeting due to their high surface density [15, 18, 20, 21]. For these reasons, nanotherapeutics are emerging as the new paradigm for anti-angiogenesis research.
Nanoparticle-mediated anti-angiogenesis therapy for cancer
Nanotechnology in cancer therapy includes an arsenal of nano-sized materials, generally ranging in dimensions from 1 nm to a few hundred nanometers in at least one dimension [22]. These nanoparticles are designed to carry therapeutic drugs and imaging agents, which are loaded on or within the nanocarriers by chemical conjugation or simply by encapsulation. Nanoparticle based chemotherapeutic agents are designed such that they can passively or actively target cancer cells.
The leaky vasculature associated with tumors contributes towards the phenomenon of passive targeting by nanoparticles. The tumor vessels have increased permeability due to aberrant angiogenesis, thus allowing nanoparticles with diameters less than 200 nm to passively extravasate into the tumor sites through the EPR effect. These nanoparticles are subsequently cleared by the liver [15, 23]. Although many factors, including surface area and chemical modifications, can affect the nanoparticle biodistribution, size remains the limiting factor in achieving passive targeting to tumor sites. As such, nanoparticles with sizes less than 10 nm are cleared by the kidney, whereas those larger than 200 nm often accumulate in the extracellular space, and fail to reach the cancer environment (20). Furthermore, poor lymphatic drainage mechanisms in tumors allow the nanoparticles to be retained in the vicinity of the tumor cells and allow them to release their cargo in a sustained manner [15]. For example, polymer-conjugated angiogenesis inhibitor TNP-470 (caplostatin) was found to accumulate selectively in the tumor vessels by the EPR effect and inhibit hyperpermeability of tumor blood vessels [24, 25]. In studies published from our laboratory, we have shown that nanoparticle-conjugated chemotherapeutic agents such as doxorubicin [26, 27] and angiogenic small molecule inhibitors [28] can preferentially home into tumors by the EPR effect, resulting in selective vascular shutdown and inhibition of tumor growth.
It should be noted that EPR alone is not always sufficient in targeting the tumor sites and hence is often used in conjunction with active targeting. This combination ensures that nanoparticles are retained in the tumor tissues following their extravasation from leaky vessels. Active targeting of tumor tissues is achieved by chemically arraying ligands on the surface of nanoparticles that can recognize and selectively bind to receptors specifically expressed on tumor cells and vessels. The high surface area to volume ratio of the nanoparticles leads to high local density of ligands for targeting. Nanoparticle-mediated active targeting of the tumor vasculature in anti-angiogenic therapy has been achieved by targeting the VEGF receptors (VEGFRs), ανβ3 integrins, and other angiogenic factors, as discussed briefly in the following section and in more details in each nanovector category later in this review.
Targeting tumor neovasculature
The most prominent modification of nanovectors entails covalently conjugating 'tags' at their surface, in order to increase their targeting potential towards tumorogenic cancer cells and/or their associated vasculature. The main 'tag' used thus far for chemotherapy involves proteins that target the integrin family. As previously mentioned, integrins are key players in the angiogenesis process, and moreover, their upregulation is known to promote survival, growth, and invasion of both tumor and endothelial cells [12]. Integrin αvβ3 has been the most widely used as a targeting moiety on nanovectors due to its pleitropic upregulation in a variety of tumor settings [29–32], some of which have been successfully translated into several clinical trials [12, 33]. However, important lacunae remain in the field, mainly owing to the inefficiency of integrin targeting in the long-run.
Nanotechnology-based approaches could remedy this limitation, due to their prolonged half-life and increased targeting efficiency. For instance, perfluorocarbon nanoparticles conjugated to various contrasting agents (Gadolinium, Gd or Fluorine isotope 19, 19F) have successfully been linked to an αvβ3 integrin antibody and then visualized by magnetic resonance imaging (MRI) in rabbit and mouse models of tumor angiogenesis [29, 32]. These studies open the door for non-invasive detection of various types of cancers in clinical settings, as well as for other diseases characterized by aberrant vasculature, such as atherosclerosis and other CVD [31]. In an analogous manner, another approach to target integrin overexpression consists of using a synthetic peptide containing the recognition site for integrins, namely an Arginine-Glycine-Aspartic acid (RGD) sequence [30]. Recent studies are further optimizing integrin targeting by engineering novel peptide moieties which bind with better affinity to integrins than current RGD tags [34, 35].
Another characteristic of tumor-associated vasculature is inflammation, resulting in upregulation of various markers known to promote endothelial-tumor cell interactions and metastasis, such as endothelial-cell selectin (E-selectin) [36]. Although E-selectin-based nanotherapeutics have been used less extensively than integrin-targeting nanoparticles, they do provide an additional means to target activated endothelium, and might hence provide an attractive tag to be used in conjunction with integrin targeting [37].
It becomes apparent that targeting-based approaches for tumor therapies are only as good as the selectivity and specificity of the targeting moiety used. This, in turn, implies that using disease-selective markers is crucial in order to obtain maximum selectivity without deleterious side-effects. Since targeted nanotechnology is often coupled with a chemotherapeutic agent entrapped in the nanoparticle, proper targeting to the diseased tissue is crucial to minimize systemic side-effects [38]. As most diseased states are usually characterized by several markers, an attractive direction would be to combine several tags on one nanovector, so long as these do not interact with each other.
Engineering anti-angiogenic nanoparticles to suit our needs: Playing with nanovector backbone and drug coupling for therapeutic and imaging purposes
Since nanoparticles were first proposed by Marty JJ. et al. in 1978 as novel drug-delivery systems [39], their use as anti-cancer agents exploded during the 1980 s. However, only more recently (1995) have they been used to target angiogenesis [40]. Several nanovectors have been reported thus far in mediating anti-angiogenesis therapy and imaging of the tumor vasculature. These include an arsenal of synthetic and natural nanoparticles such as polymeric conjugates and polymeric nanoparticles; liposomes and micelles; synthetic organic nanoparticles such as dendrimers; carbon-based nanostructures such as carbon nanotubes and polyhydroxylated fullerenes; inorganic nanoparticles of gold, silver and iron-oxide; quantum dots; viral capsids and ferritin. The plethora of nanovectors allows researchers to fine-tune the properties of the drugs depending on their target. Further fine-tuning is also possible depending on the method of drug-nanovector coupling, thus offering the potential to engineer revolutionary therapeutics in the field of angiogenesis. Herein, we review the different types of nanovectors that have been studied to formulate anti-angiogenic agents for imaging and therapeutic purposes, their main modifications, as well as their advantages and limitations.
New generation research in anti-angiogenesis therapy
Apart from the more conventional approaches of arraying small molecule chemotherapeutic drugs or antibodies on different synthetic or natural nanovectors to achieve anti-angiogenic effects, new research reports are emerging that target the molecular mechanism of angiogenesis by using approaches such as gene silencing and others. In the following sections, we will review some of these emerging new strategies.
Nanoconjugates for siRNA/gene delivery
An interesting strategy to target tumor vasculature is by systemic delivery of an anti-angiogenic gene using a nanoconjugate system. The soluble fragment of VEGF receptor Flt-1 (sFlt-1) is a potent and selective inhibitor of VEGF. As such, Kim et al. showed that the stable expression of sFlt-1 by endothelial cell targeted gene delivery inhibited angiogenesis [83]. For this purpose, the authors designed a PEGylated polyethyleneimine (PEI) nanosystem, consisting of the ανβ3 integrin targeting RGD peptide sequence, PEI-g-PEG-RGD, and complexed with the therapeutic gene encoding sFlt-1. The PEI-g-PEG-RGD/pCMV-sFlt-1 nanoconjugate system successfully inhibited the proliferation of cultured endothelial cells in vitro by blocking the binding of VEGF to the membrane-bound full length Flt-1 receptor. In a further study, the authors showed that this polymeric gene delivery system reduced tumor burden in mice while increasing prognosis [84].
The use of small interfering RNA (siRNA) and short-hairpin RNA (shRNA) have tremendously helped in our understanding of the molecular mechanisms underlying angiogenesis and tumor developments. The high specificity of these small RNA sequences in binding target proteins post-transcriptionally can prove crucial to our efforts in designing new generation of therapeutics [85]. In one such study, Schiffelers et al. have reported the engineering of RGD-sequence bearing PEGylated self-assembling polymeric nanoparticles that can be used to deliver siRNAs specifically targeted to inhibit VEGFR-2 expression, thereby inhibiting tumor angiogenesis [86]. Intravenous administration of these nanoparticles into mice bearing neuroblastoma N2A tumors led to selective tumor uptake, siRNA sequence-specific inhibition of VEGFR2 expression in tumor, and inhibition of tumor growth and angiogenesis.
Lipid-based nanosystems have also been reported for targeted gene and siRNA delivery. Protease-activated receptor-1 (PAR-1) siRNA incorporated into neutral liposomes was used to target the thrombin receptor PAR-1, which is involved in adhesion, invasion and angiogenesis [87]. Systemic delivery of these nanoparticles inhibited both melanoma tumor growth and metastasis in mice. This led to significant inhibition of tumor growth and weight, in addition to a concomitant decrease in the expression of various angiogenic factors (VEGF, interleukin-8 and MMP-2), as well as reduced blood vessel density.
Apart from polymeric and lipid-based nanosystems, chitosan nanoparticles loaded with siRNA have also been designed to provide a novel therapeutic tool for selectively knocking down angiogenesis genes. For instance, Pillé et al. have reported the use of a chitosan-coated polyisohexylcyanoacrylate nanoparticle for encapsulating anti-RhoA siRNA, resulting in inhibition of tumor growth and angiogenesis in an aggressive breast cancer mouse xenograft model [88].
Aptamers
Aptamer-based nanotherapeutics have emerged as a novel strategy due to their recognition, and hence targeting, of an endless list of moieties including oncogenes, viruses, bacteria and inflammatory proteins. Aptamers are short, three-dimensional synthetic RNA or DNA oligonucleotides (15-40 nucleotides long) or peptides (10-20 amino acids long) that bind their target with high affinity and specificity, hence their nickname of 'chemical antibodies' [89–91]. Depending which epitope aptamers bind to, namely an active versus non-active site, determines whether aptamers inhibit function or simply acts as a targeting moiety. These properties make aptamers ideally suited for diagnostics, imaging and targeting of angiogenic-based pathologies. The strengths of aptamers reside in their versatility, non-immunogenicity, low cost, high reproducibility and ease of production, which become immediately apparent when compared with standards antibodies. For instance, oligonucleotide and peptide aptamers can be isolated from an impressively large repertoire of libraries, by processes known as Systematic Evolution of Ligands by Exponential Enrichment (SELEX) and yeast/bacterial expression libraries, respectively [89, 91]. These libraries have been key determinants in increasing the efficacy and popularity of aptamer-based nanotechnology, as they allow high-throughput screening and can hence find disease markers. The main lacuna of aptamers are that they are easily degraded by cellular nucleases and proteinases [89]. This lacuna is easily remedied by chemical modifications of the aptamers, making them ideal candidate for novel nanotherapeutics with improved targeting power and therapeutic index [90].
Oligonucleotide aptamers have recently gained much popularity in the field of cancer in general. For instance, they have played a crucial role in increasing targeting and imaging of cancer cell and their associated vasculature by being coupled to metallic nanoparticles such as magnetic, gold and ruby-eye doped nanoparticles, as well as quantum dots [90, 92–94]. This coupling of aptamers to metallic nanoparticles creates an exciting new opportunity for tumor detection, as it potentiates the biosensor capability of metallic nanoparticles significantly. Using other type of nanovectors, VEGF-targeting RNA aptamers have been combined with either PLGA microspheres or 1,2-distearoyl-sn-glycero-3-phosphatidylcholine (DSPC) and cholesterol nanoliposomes, resulting in potent and selective inhibition of angiogenesis in vitro and in vivo for prolonged time periods [95, 96]. In another interesting study, an Ang-2 RNA aptamer was shown to inhibit adult neovascularization in a rat corneal pocket model of tumor angiogenesis [97]. As the role of Ang-2 in mediating vascularization has long been contested, with contradicting reports demonstrating both pro- and anti-angiogenic roles, this study validates our previous findings that Ang-2 can indeed play a preponderant role in promoting angiogenesis [98].
Oligonucleotide aptamers have preferentially been used, as compared with their peptide counterparts, mainly due to their higher binding affinities and lower costs and ease of synthesis and purification. This has translated into very few reports combining peptide aptamer- and nanoparticle-based technologies, with most studies instead focusing on the advantages of these aptamers for forward and reverse genetic experiments [91]. Hence, there is currently an enormous gap with respect to peptide aptamer-based nanotherapeutics, altough the potential is certainly present, mainly due to the advantage of peptide aptamers in disrupting protein-protein interactions. As such, they have efficiently been used in cancer setting to target and inhibit various tumor markers associated with tumor growth and metastasis [99, 100]. Although these latter studies didn't conjugate the aptamers with nanovectors, they open up the doors to novel and exciting possibilities in the nanotechnology field. To the best of our knowledge, peptide aptamers have only been conjugated with nanomaterials in the case of carbon, but for the sole purpose of increasing its solubility [101].
Stem cell-based nanotherapeutics
In a novel approach, embryonic stem cells have been used in conjunction with nanoparticles for either tumor imaging [
102
] or for pro-angiogenic therapy during CVD-related ischemia [
103
]. For imaging, stem cells were labeled with ferumoxides-poly-lysine complexes (e.g. iron oxide superparamagnetic nanoparticles) and used to visualize gliomas using MRI. This finding has enormous therapeutic implications, since very few agents are able to bypass the blood brain barrier, often resulting in insurmountable obstacles for the treatment of brain malignancies. Regarding pro-angiogenic stem cell-based therapeutics, cells were transfected with VEGF DNA using biodegradable poly(β-amino esters) nanoparticles, leading to significant vascular regeneration in ischemic tissues [
103
]. This methodology in itself is quite novel, as standard transfection methods rely on plasmids or electroporation, which results in high cell stress and low efficiency. Although there are very few studies merging nanotechnology with stem cells, this field warrants further investigation due to its immense clinical potential in a variety of angiogenic diseases, especially those characterized by vessel insufficiency. In a novel approach, our laboratory has attempted to merge the use of carbon nanovectors with embryonic stem cells. Our preliminary results show that the shape of carbon nanostructures can modulate stem cell fate, with an example of an inhibitory effect on vascularization, as shown in Figure
5
. Our ongoing studies underlie the infinite possibilities of modulating tissue regeneration with, not only scaffold type, but structure as well.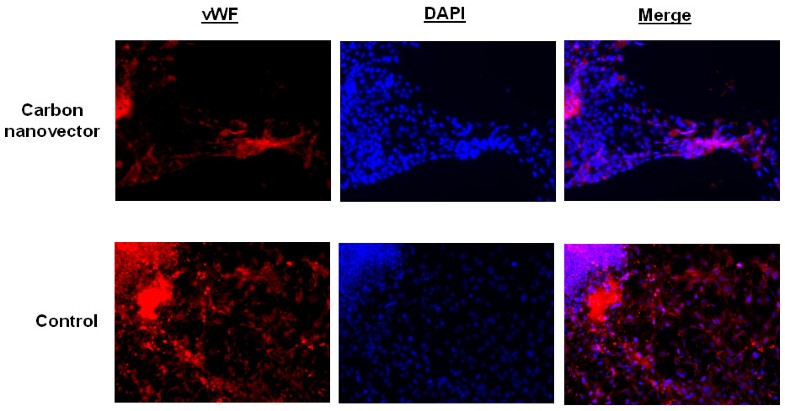 Concluding Remarks and Future Directions
The tumor neovasculature is an attractive target for anti-angiogenic therapy as well as non-invasive imaging studies. Nanotechnology has emerged as an exciting field in this area of research due to multiple advantages, including the capacity of nanoparticles to carry multiple moities of therapeutic and imaging agents, offer longer circulation time and increase the therapeutic index of chemotherapeutcs, to name a few. Moreover, with the various types of nanovectors available, many of which are FDA-approved, along with the various methods for coupling them to drugs and diagnostic agents, there is an endless opportunity to fine-tune nanotherapeutics depending on the task needed. Clearly, the advent of nanothechnology provides a huge potential for devising increasingly novel anti-angiogenic therapeutics that can eventually be translated from bench to bed-side.
Declarations
Acknowledgements
The authors would like to thank Dr. Richard M. White and Dr. Leonard I. Zon (Children's Hospital Boston) for providing Casper Zebrafish and for their advice, as well as Dr. Dirk M. Hentschel and Dr. Joseph V. Bonventre (Harvard Institutes of Medicine, Boston, MA) for access to Zebrafish facilities. This work was funded by a CIHR fellowship to Rania Harfouche, and a Department of Defense BCRP Era of Hope Scholar Award (W81XWH-07-1-0482) and a BCRP Innovator Collaborative Award, and a NIH RO1 (1R01CA135242-01A2) to Shiladitya Sengupta.
Authors' Affiliations
(1)
BWH-HST Center for Biomedical Engineering, Department of Medicine, Harvard-MIT Division of Health Science and Technology, Brigham and Women's Hospital, Harvard Medical School, Cambridge, USA
Copyright
© Banerjee et al; licensee BioMed Central Ltd. 2011
This article is published under license to BioMed Central Ltd. This is an Open Access article distributed under the terms of the Creative Commons Attribution License (http://creativecommons.org/licenses/by/2.0), which permits unrestricted use, distribution, and reproduction in any medium, provided the original work is properly cited.