Macrophages and angiogenesis in rheumatic diseases
Received: 20 March 2013
Accepted: 26 April 2013
Published: 1 June 2013
Abstract
Angiogenesis plays a key role in several rheumatic diseases, including rheumatoid arthritis, osteoarthritis, ankylosing spondylitis, systemic sclerosis, systemic lupus erythematosus, and vasculitides. An imbalance between angiogenic inducers and inhibitors seems to be a critical factor in pathogenesis of these diseases. Macrophages promote angiogenesis during rheumatoid arthritis. In addition, macrophages can produce a variety of pro-angiogenic factors that have been associated with the angiogenic response occurring during other rheumatic diseases. Lastly, macrophages could be a target in the treatment of rheumatoid arthritis and other rheumatic diseases. Nevertheless, further studies are needed to better elucidate the exact role of macrophage in angiogenesis in these diseases.
Keywords
AngiogenesisArthritisConnectivitiesMacrophageVasculitides
Introduction
Macrophages are a population of cells derived from CD34 positive bone marrow progenitors, which differentiate to form blood pro-monocytes. Then pro-monocytes develop into monocytes and extravasate into tissues where they become "resident" tissue macrophages. Even if "resident" macrophages are characterized by different phenotypes within tissues, from that of Kupferr cells in the liver, microglial cells in the brain, and Langerhans cells in the skin, they share common aspects, such as their capacity to influence normal cell turnover and tissue remodeling, to counteract microbial infections, and to facilitate repair in sites of injury [1].
Macrophages may be recruited as consequence of any local disturbance of tissue homeostasis, including normal cell turnover or wounding, infections, immune response and malignancy. After recruitment, macrophages become "activated macrophages" showing different phenotypes in relation to the nature of the recruiting stimulus and the location.
As consequence of the variety of secretory products, anatomic diversity and functional heterogeneity, macrophages are involved in different physiological mechanisms and plays a key role in the aetiology and pathogenesis of numerous diseases. There are numerous evidences that macrophages are involved in both physiological and pathological angiogenesis [2, 3].
Activated macrophages are generally categorized in two types, M1 (classically activated) and M2 (alternatively activated) [4, 5]. M2 macrophages are further subdivided into M2a (activated by interleukin [IL]-4 or IL-13), M2b (activated by immune complexes in combination with IL-1β or lipopolysaccharide [LPS] and M2c (activated by IL-10, transforming growth factor-β [TGFβ] or glucocorticoids). M1 macrophages are able to kill microorganisms as well as tumor cells and secrete high levels of pro-inflammatory cytokines and tumoricidal agents, reactive nitrogen and oxygen intermediates , whereas the M2-derived chemokines play a role in the resolution of inflammation through phagocytosis of apoptotic neutrophils, reduced production of pro-inflammatory cytokines, and increased synthesis of mediators important in tissue remodeling, angiogenesis, and wound repair [4, 5].
Considering the increasing interest for the role of angiogenesis in the pathogenesis of rheumatic diseases, such as rheumatoid arthritis, in this review we will focus on the role of macrophages in angiogenesis associated with rheumatic diseases.
Conclusions
Angiogenesis is emerging key player in pathogenesis of several rheumatic diseases, such as rheumatoid arthritis, osteoarthritis, ankylosing spondylitis, systemic sclerosis, systemic lupus erythematosus, and vasculitides. Among major cell types involved in angiogenesis, macrophages are known to produce numerous angiogenic factors, including VEGF, FGF, TGF-β, PDGF, TNF-α, MCP-1, IL-6, IL-8, and IL-18 (Figure
1
).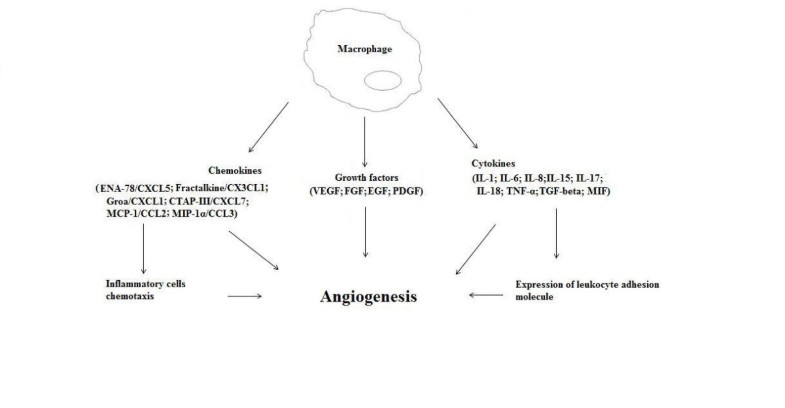 Much research has been concentrated on the role of macrophage derived angiogenic factors in rheumatoid arthritis. Nevertheless, it is conceivable that macrophage may be involved in angiogenesis in other rheumatic diseases characterized by the presence of angiogenic factors which may be produced by macrophage, although not exclusively.
This suggests that macrophage could be usefully selected as a therapeutic targets of an antiangiogenic therapy in the treatment of rheumatic diseases, even if further studies are needed to better elucidate the exact role of macrophage in angiogenesis in these diseases.
Abbreviations
ANCA:

Antineutrophil cytoplasmic antibodies
CEBPD:

CCAAT/enhancer-binding protein D
CIA:

Collagen-induced arthritis
CTAP-III:

Connective tissue-activating peptide-III
CUB:

Complement subcomponents C1r/C1s, Uegf, BMP-1
ENA-78:

Epithelial-neutrophil activating protein-78
FGF:

Fibroblast growth factor
FAK:

Focal adhesion kinase
GCP-2:

Granulocyte chemotactic protein 2
HIF-1α:

Hypoxia inducible factor-1α
IL:

Interleukin
IFN-γ:

Interferon-γ
MIF:

Macrophage migration-inhibitory factor
MIP-1α:

Macrophage inflammatory protein-1α
MMPs:

Metalloproteinases
MCP-1:

Monocyte chemoattractant protein-1
MGCs:

Multinucleated giant cells
PDGF:

Platelet-derived growth factor
SDF-1:

Stromal cell-derived factor-1
TSP2:

Thrombospondin 2
TIMPs:

Tissue inhibitors of metalloproteinases
TGF:

Transforming growth factor
TNF-α:

Tumor necrosis factor alpha
VEGF:

Vascular endothelial growth factor
VEGFRs:

VEGF receptors.
Authors' Affiliations
(1)
Rheumatology Clinic, Department of Medical and Surgical Sciences, University of Foggia Medical School- Ospedale " D'Avanzo", Foggia, Italy
(2)
Department of Basic Medical Sciences, Neurosciences and Sensory Organs, University of Bari Medical School, Policlinico, Italy
Copyright
© Maruotti et al.; licensee BioMed Central Ltd. 2013
This article is published under license to BioMed Central Ltd. This is an Open Access article distributed under the terms of the Creative Commons Attribution License (http://creativecommons.org/licenses/by/2.0), which permits unrestricted use, distribution, and reproduction in any medium, provided the original work is properly cited.